wingboard Bruch Joy
Kód:
816
Detailní popis produktu
The Joy – Wingfoil Board
38 / 48 / 58 / 68 / 78 Liters
The perfect board for taking your foiling to the next level, early flying, learning all the crazy spins, taking your wing foil surfing to the next level, a lot of fun.
38L – 4'0 x 21″
48L – 4'0 x 21″
58L – 4'4 x 21,5″
68L – 4'4 x 21,5″
78L – 4'8 x 23″
88 / 98 Liters
The perfect board for the next step after your entry into wing foiling. An all-round board that takes your skills to another level, with all shape benefits, to make foiling easy and fun, just like the smaller boards of the Joy Family.
88L – 4'8 x 23″
98L 5′ x 24″
110 / 130 Liters
These 2 bigger sizes, have a more adapted shape, to go from the beginner level, to a more intermediate/advanced level. Wide, but thin, lays perfectly in the water for great stability, to use each little gust of wind to get on the foil quick. Once on the foil, the aerodynamics are just stunning to enJOY the flight. Also a great SUP foil board for those that like to combine sports.
110L – 6′ x 28″
130L – 6′ x 28″
Construction:
We offer 2x types of constructions:
+"The Full Double Biax Carbon Sandwich construction" (This construction is not available yet)
Unbreakable! For those more jumping orientated ones or for those that like to feel more stiffness for direct pumping sensation.
+"The Hybrid Biax Carbon Construction"
Strong and light; if gliding and little jumps is your thing, this construction won't let you down.
In both constructions, we connect our foil box, all the way with the deck, to avoid any kind of issues with the boxes, no matter how you treat them!
All boards have the same "Carbon Look", with our Ceramic Gel coat Finish.
Finish:
For the finish of our boards, to archive the full carbon look, we don't use regular "mastic" to then paint the boards, we add a ceramic gel coat finish, after laminating, to improve the hardness and durability of the first layer that is most exposed, so that it will protect the board from aging, getting scratched or dented quickly. Choose matt or shiny finish.
Self Breathing air vent:
We use self breathing air vents, specially because our boards can get hot in the sun and damage the construction if there is no air out or pressure release.
Advantage is that there is 0 maintenance to it and nothing to worry about.
Deck:
The concave deck gives the rider rock solid control
with every input of heel and toe being translated directly into the foil.
This gives the Joy an incredible feel.
Rails:
The rail design gives more clearance between the
rail and water when laying over into turns. This rail design also helps
recover and rebound after touching down in a turn.
Nose:
We offer two different tips of Noses, one is the classic flat Nose. The other one is the volley one that gets you extra fast on the foil and makes landing move way easier because it saves you from nosediving.
Pads:
"HPE" pads that will give you the needed grip, either in the straps or strap-less sailing, with all the confort to guarantee a smooth ride.
Footstraps & positions:
We are using the same extra comfortable footstraps, as on our Windsurfboards: "High quality straps with double velcro for adjustments and a stiff strong belt inside to maintain a well shaped, round strap on the board.
Positions: "ALL options available"; no matter what is your style of riding, we offer all kind of Strap positions, just choose your preference.
Bottom shape:
Deep curves of a double concave with a strong pronounced "V" at the nose area, that ends up in a flat bottom at the foil area, to create the perfect combination between control and early lift of the foil, to always maintain you in the air.
Box position:
By testing our boards with all kind of foils, we found the sweet spot for our Box. Still, we always recommend getting in touch with us before to see what foil you are riding or going to ride, because there are some foils that are way more back or front footed than others and in this case we can adjust the box position, under pre-order, at our factory, with a delivery time of maximum 3x Weeks in Europe.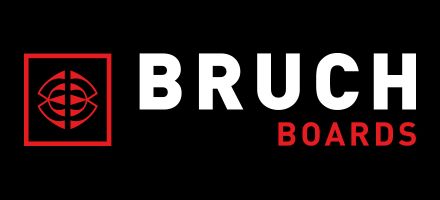 Bruch Boards is a new kind of windsurfing brand with a customer focused, more personal approach.
PREMIUM FULL BIAX CARBON

TECHNOLOGY

Our Premium Responsive Carbon Construction (PRCC) is the result of many years of experience and hard work, dedicated to finding the perfect combination of light weight, flex and durability. It is used exclusively in all our boards.

While our competitors offer a wide range of constructions on different quality levels, our goal has been to solely develop and build the best windsurfing boards possible, to enjoy for many years.
At Bruch Boards we only use the most exclusive materials, taking our Responsive Carbon Technology to a quality level unmatched on the windsurfing market.
Personal Shopper
Get personal advice from Dany with our Personal Shopper service. Dany is not only developing some of the hottest windsurfing boards on this planet, but also loves to talk to his clients to help them find their individual dream-board.

Imagine entering your favourite surf-shop, with Dany Bruch being your personal shop-assistant. Wouldn't that be cool? And who could be more qualified than Dany to help you find that perfect board for you?

Bruch Boards "Personal Shopper" chat sessions are 100% free of charge, with no compromise, and part of our core philosophy to offer the best client service of the industry. Schedule your slot now, find your personal dream-board!