Flymount držák pro akční kamery
Kód:
872/KIT
872/AER
872/AER2
872/ORI
872/TRI
Zvolte variantu
Detailní popis produktu
Kiteboard/wakeboard mount
Low profile fin bolt mount for twintip kiteboards and wakeboards. Uses a GoPro type mounting System.
Our low profile mount for twintip kiteboards and wakeboards uses the fin bolts to connect securely to your board.
Weighing just 13g, dimensions : 7×4.5×2cm, this tough little adjustable board mount fits all GoPro cameras, and cameras using the GoPro mounting system.
Please note: this mount will act as a 4mm spacer between your board and the fin bolt. Longer screws may be required to ensure a strong connection. Please allow at least 5mm of screw depth to connect with the fin.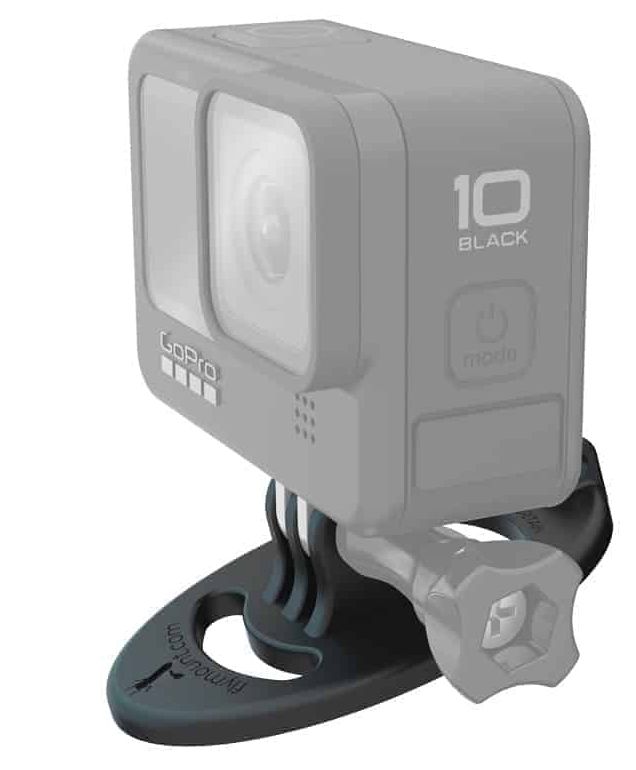 Flymount Aero-40
The NEW ultralight Flymount Aero-40 action camera mount.
Safe recommended mounting range of 25mm to 40mm.
Factory fitted with a GoPro type mounting system – compatible with all GoPro cameras.
Our NEW compact mount for action sports equipment - compact, ultralight and incredibly strong.
The Aero-40 is designed for bomb proof attachment to action sports equipment - particularly in high UV marine environments. A safe mounting range of 25mm to 40mm covers windsurf masts, booms, SUP paddles, wing-foil booms, bike frames, and pretty much any action sports equipment you can imagine.
The Aero-40 is fitted with our patent pending one-handle-design for minimum bulk, and reliable intuitive adjustment of both the grip and the camera position.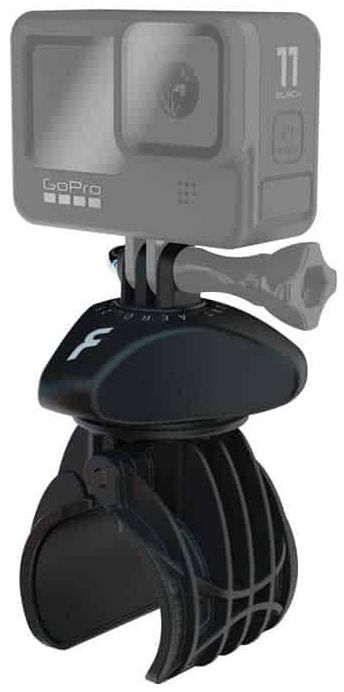 Flymount Aero-130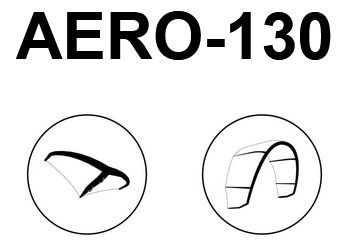 The NEW Flymount Aero-130 wing mount – light, strong and smart.
Safe recommended mounting range of 80mm to 130mm.
Factory fitted with a GoPro type mounting system – compatible with all GoPro cameras.
Our NEW ultralight action camera mount for wings and kites.
The Flymount Aero features a brand new patent pending camera adjustment system, and a featherlight construction for limitless mounting possibilities on wing foil wings and kite central struts.
Made from extra tough glass reinforced Akulon®, with marine grade metal parts, to withstand saltwater, impact and high levels of UV.
Our patent pending design has just one single operational handle that tightens both the jaws and the camera adaptor at the same time, reducing bulk and allowing for an incredible overall weight of just 140g,
ensuring equipment performance remains unaffected.
The Flymount Aero has been designed specifically for mounting GoPro and other action cameras to inflatable wing and kite bladders, with a unique jaw profile that helps to lock the mount in position and prevent movement. Internally, the jaws are lined with soft EVA pads to protect your kit and increase grip when wet.
Using the Flymount Aero is simple and intuitive; one single handle opens and closes the camera mount's jaws. As the tightening point is reached, the camera adaptor also tightens, holding the camera firmly in position, yet allowing for further adjustment if required.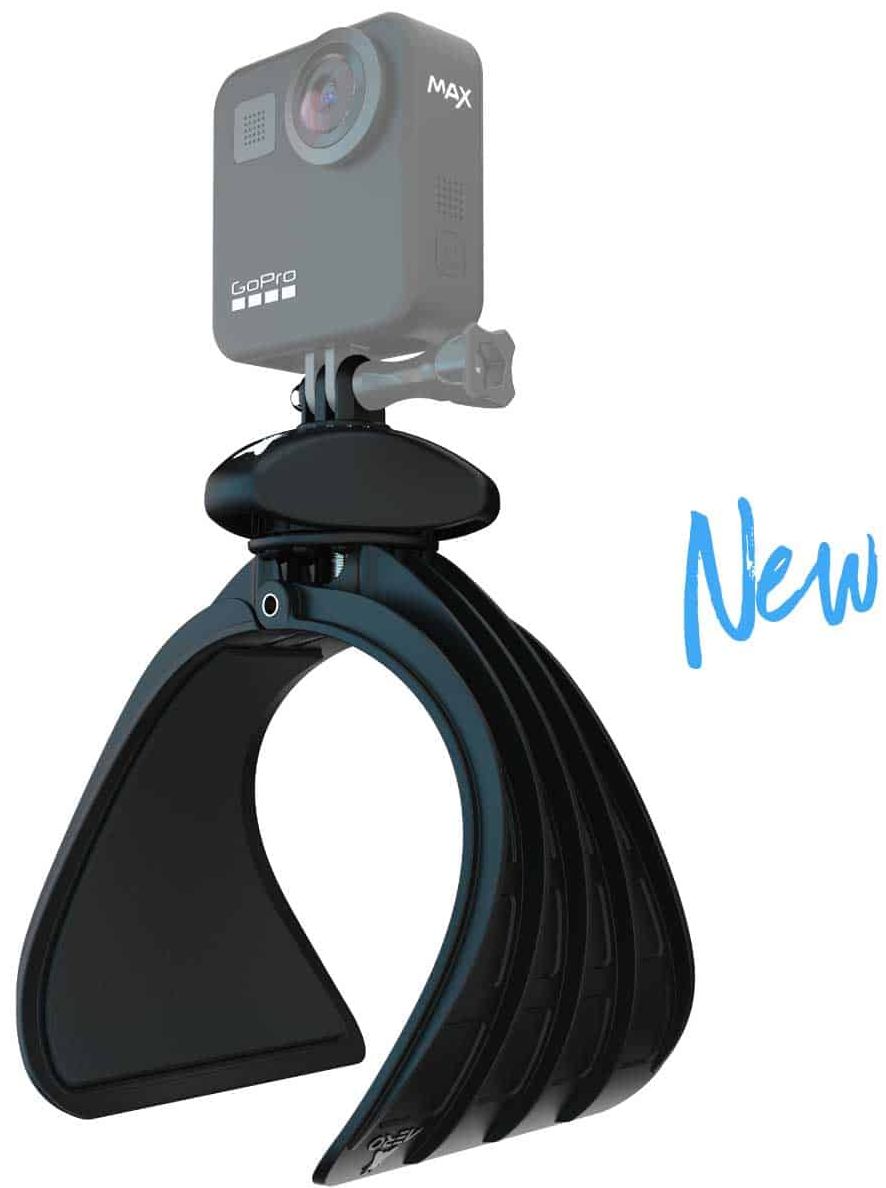 Flymount Original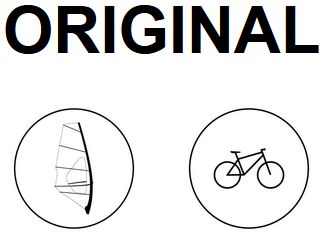 The 4th generation of our legendary Flymount Original action camera mount – bomb proof, featherlight, and built to take a beating!
Fitted with GoPro type mounting system. Safe recommended mounting range of 20mm to 50mm.
The world's Original action camera mount! Light, strong and built to withstand the harshest outdoor environments on Earth.
The Flymount Original – like all our products – is manufactured here in the UK; assembled and packed by people who care about what they're doing. We strive for the highest possible standards in our manufacturing to ensure that you have the most reliable action camera mount that money can buy, keeping your camera safe when it matters.
Every detail has been scrutinised over the years, and improved where necessary. To ensure the longest possible lifespan for your Flymount Original, we use a combination of premium grade Glass Reinforced Nylon-66, and marine grade metals. The glass reinforced Nylon-66 ensures that the body of these mounts is strong and stiff, and has incredible resistance to extremes of temperature and high ultra violet. This material is used by the automotive industry as a replacement for metal when weight needs to be kept to a minimum. The metal parts are a combination of 316 marine grade stainless steel, and CZ112 naval grade brass. This enables the Flymount Original to be used extensively in saltwater without corroding or seizing. These are the original - and best - mounts that you can buy for your action camera. Beware of imitations!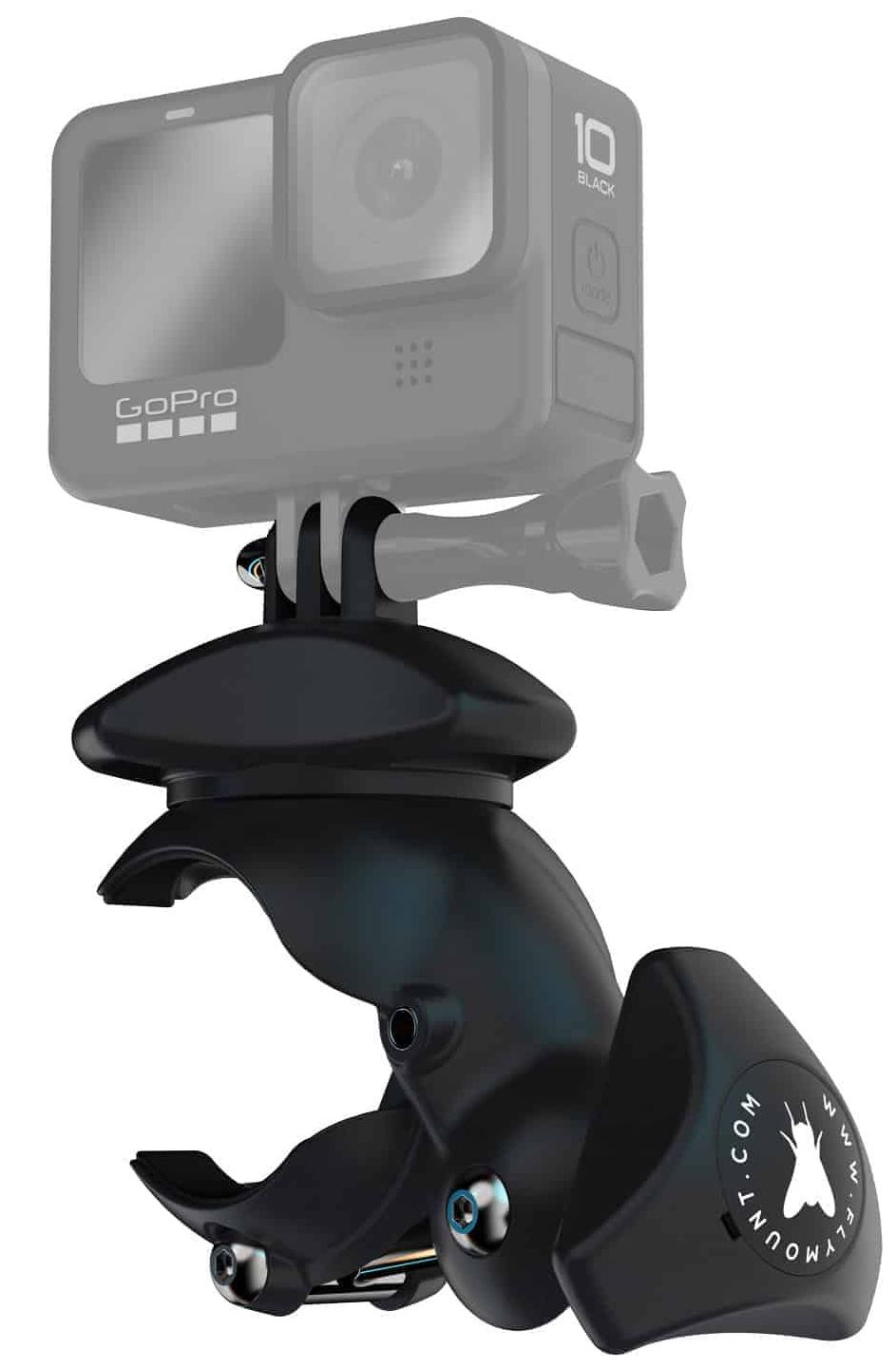 Ben Proffitt - použití držáku Flymount pro windsurfing
Flymount na křídle letadla
Flymount na windsurfing
upevnění Flymount na wing

WELCOME TO FLYMOUNT
Home of the original action camera mounts
Our lightweight ultra tough camera mounts have been helping to capture POV photography since 2006. We were the first company on Earth to make camera mounts specifically for attaching to action sports equipment, and the factors that guided us then remain the same today – light enough to forget about, yet strong enough to withstand years of abuse in harsh marine environments.