windsurf plovák Bruch Freedom
Kód:
705/88
705/98
705/108
705/118
705/128
Zvolte variantu
Detailní popis produktu
The Freedom is the concept we are most proud of; the fusion of a genuine freewave board with the capabilities of a freeride or even freerace board.
Initially, it was created to fulfill the needs of heavier sailors (100kg+), whom also like to play in the waves, but can't do so right now because there is nothing on the market without 'slalom rails'.
The outline of the shape, as you can see, was inspired by the Madness, but with a wider nose and more volume between the feet and tail. It's perfectly balanced to be even easier to use … and not only for the heavy guys

It gets planing even faster; has an amazing top-end speed, and like all of our wave boards has lots of grip, control and turn-ability that you have never experienced before. The Freedom comes with two setups, so read this carefully:

The Freewave Setup
With the base plate at the back of the mast track, use three straps along the centre-line of the board, and the thruster freewave fin set.


The Freeride Setup
With your base-plate located all the way to the front of the mast track, locate the four straps outboard towards the rails of the board, and fit the 36cm freeride centre fin in place.

Yes, it sounds unreal, but it is true! We are amazed at how good this board works in both disciplines.
During the development stages, testing The Freedom in waves, we did all sorts of moves on it: aerials, cut-backs, slam gybes… And when switching it to freeride mode, we achieved 55km/h, requiring less effort to control or gybe it than any freeride or freerace board we tested it against.
Currently only available in 118L, we aim to have a complete range to choose from by the beginning of 2022, ranging from 88L to 128L.
Feel FREE to RIDE!

Bruch Freedom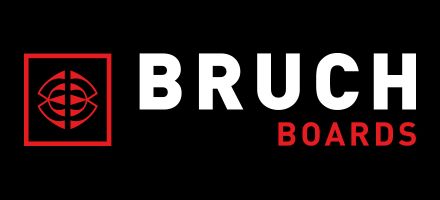 Bruch Boards is a new kind of windsurfing brand with a customer focused, more personal approach.
PREMIUM FULL BIAX CARBON

TECHNOLOGY

Our Premium Responsive Carbon Construction (PRCC) is the result of many years of experience and hard work, dedicated to finding the perfect combination of light weight, flex and durability. It is used exclusively in all our boards.

While our competitors offer a wide range of constructions on different quality levels, our goal has been to solely develop and build the best windsurfing boards possible, to enjoy for many years.
At Bruch Boards we only use the most exclusive materials, taking our Responsive Carbon Technology to a quality level unmatched on the windsurfing market.
Personal Shopper
Get personal advice from Dany with our Personal Shopper service. Dany is not only developing some of the hottest windsurfing boards on this planet, but also loves to talk to his clients to help them find their individual dream-board.

Imagine entering your favourite surf-shop, with Dany Bruch being your personal shop-assistant. Wouldn't that be cool? And who could be more qualified than Dany to help you find that perfect board for you?

Bruch Boards "Personal Shopper" chat sessions are 100% free of charge, with no compromise, and part of our core philosophy to offer the best client service of the industry. Schedule your slot now, find your personal dream-board!