windsurf plovák Bruch Happy
Kód:
1010/80
1010/85
1010/90
1010/95
1010/105
Zvolte variantu
Detailní popis produktu
The perfect board
for early planing
It's the most compact one of our wave boards.
It's the board for those intermediate level wave sailors that want to improve their wave sailing and really get into it!
It's just easy; easy and fun!
And yet … as a surprise to us all, it can do much more than expected.
"It's the board I am using most myself right now." Dany Bruch

"You know how it is: two young kids and a job or business, right? I've hardly got time for anything! So when I have got some time to escape for a session, the conditions are what they are, and you simply have to make the most of them.
You just want to have fun!
Thanks to Ben, a customer from Tenerife that pushed me to try the Happy in stronger winds and bigger waves, I discovered the real magic of this board.
It's a real surfboard in waves. The way it accelerates in the bottom turn; the speed it generates and how carvy or snappy it is in the top turn… It simply has no comparison or rival in the industry."
"Planing abilities?"
Well, because of its wide tail, you're going to be the first one planing … and you will always be planing!
"Turn-ability, Riding or Gybing?"
Easy, like never before! Contrary to what most of people think, the wide tail turns with less effort than a regular wide tail, because of what we like to call The Lever Effect. As a result, very little pressure applied through the tips of your toes will make The Happy turn just like that!
The half arc moon tail adds lots of grip and control, acting almost like two pintails.
Last but not least (and better than all our expectations), thanks to its more pronounced bottom shape, in high winds it's the board that eats chop like nothing else, allowing you to maintain speed and jump effortlessly, whilst giving you the smoothest ride ever!
So, don't simply pigeon-hole this board into the Stubby shape category; it's a regular board that will just make you Happy!
SHAPE
The shape of the HAPPY is based on parallel rails that define the outline.
Its a compact-concept board – Short, thick, easy and fun: a skate board to windsurf on.
The extreme tail width, kept thin in the rails, allows to maintain feeling and connection on a waveface.
The thicker mid/front part of the board allows the ease of use while getting through the shore break.
This combination makes this board feel balanced from the first moment you step on it.

Bruch Madness
Bruch Madness Flight Sails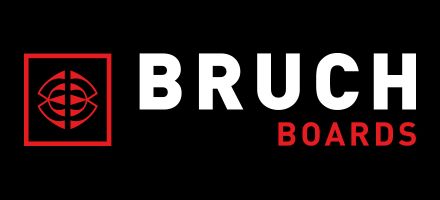 Bruch Boards is a new kind of windsurfing brand with a customer focused, more personal approach.
PREMIUM FULL BIAX CARBON

TECHNOLOGY

Our Premium Responsive Carbon Construction (PRCC) is the result of many years of experience and hard work, dedicated to finding the perfect combination of light weight, flex and durability. It is used exclusively in all our boards.

While our competitors offer a wide range of constructions on different quality levels, our goal has been to solely develop and build the best windsurfing boards possible, to enjoy for many years.
At Bruch Boards we only use the most exclusive materials, taking our Responsive Carbon Technology to a quality level unmatched on the windsurfing market.
Personal Shopper
Get personal advice from Dany with our Personal Shopper service. Dany is not only developing some of the hottest windsurfing boards on this planet, but also loves to talk to his clients to help them find their individual dream-board.

Imagine entering your favourite surf-shop, with Dany Bruch being your personal shop-assistant. Wouldn't that be cool? And who could be more qualified than Dany to help you find that perfect board for you?

Bruch Boards "Personal Shopper" chat sessions are 100% free of charge, with no compromise, and part of our core philosophy to offer the best client service of the industry. Schedule your slot now, find your personal dream-board!